Our Pocket-Sized, Portable
Rife Machine
Packs a punch on a pocket-sized budget
Never before has Rife technology been so portable, so affordable and so easy to use!
Rife therapy in the Palm of Your Hand!
JWLABS LiveWires is our entry level Rife frequency device, ideal for those who wish to protect and preserve their general wellness, now and in the future.
The LiveWires portable Rife machine delivers our full-bodied, expertly-tuned frequency sessions via live audio streaming. Our General Alignment is an excellent maintenance session, and it is available FREE to all registered LiveWires users.
The Model A1, called "LiveWires", is very sophisticated from an engineering point of view, but extremely simple in terms of user interface. This portable Rife machine has been created with the same circuit as the Model A3, but has only a simple one-turn thumb wheel amplitude control. For this reason, we recommend that you keep your thumb on the wheel so you can quickly adjust the intensity to your comfort level as the frequencies change.
LiveWires has no switches and no lights. The input cable, power cord, and electrode leads are permanently affixed. The circuitry is permanently potted, so our engineers cannot repair the unit. This means that our Lifetime Warranty does not apply. Fear not, for we have not had failures, nor are we unreasonable in the event that you need our support!
Maximum output is about 68 volts, more power than you need for an exhilarating experience!
LiveWires comes with a bag of 40 "softies" adhesive electrode patches. You will get multiple uses from these electrodes if they are handled with care.
Although it is equal to the Model A3 in its potential, LiveWires is less complex to operate. And, of course, it will fit in your pocket!
Weighing only 5 ounces, and measuring 1.5″ x .5″ x .75″, LiveWires is the ideal, portable Rife machine to take on the road. Soothe yourself with the tranquil note of your meditation music. Or Energize with your favorite Rock and Roll with this pocket-sized Rife frequency device.
With a mini-adapter for your USB connection, you can use your tablet or smartphone to access your music or your preferred frequency sessions.
As you play your favorite music through LiveWires, pay attention to the variation of intensity and rhythm. Some frequency ranges feel stronger than others, some instruments or voices will feel more robust than others.
It's thrilling, of course, but keep in mind that you will sometimes wish to decrease or increase the intensity of your experience.
Have LiveWIres, Will Travel!
With a mini-adapter for your USB connection, you can even use your tablet or smartphone to access the sessions.
Purchase Now for just $425*
*Includes a 40-pack of "Softies" Adhesive Electrode Patches ($40 value)
LiveWires Rife Machine
Out of Stock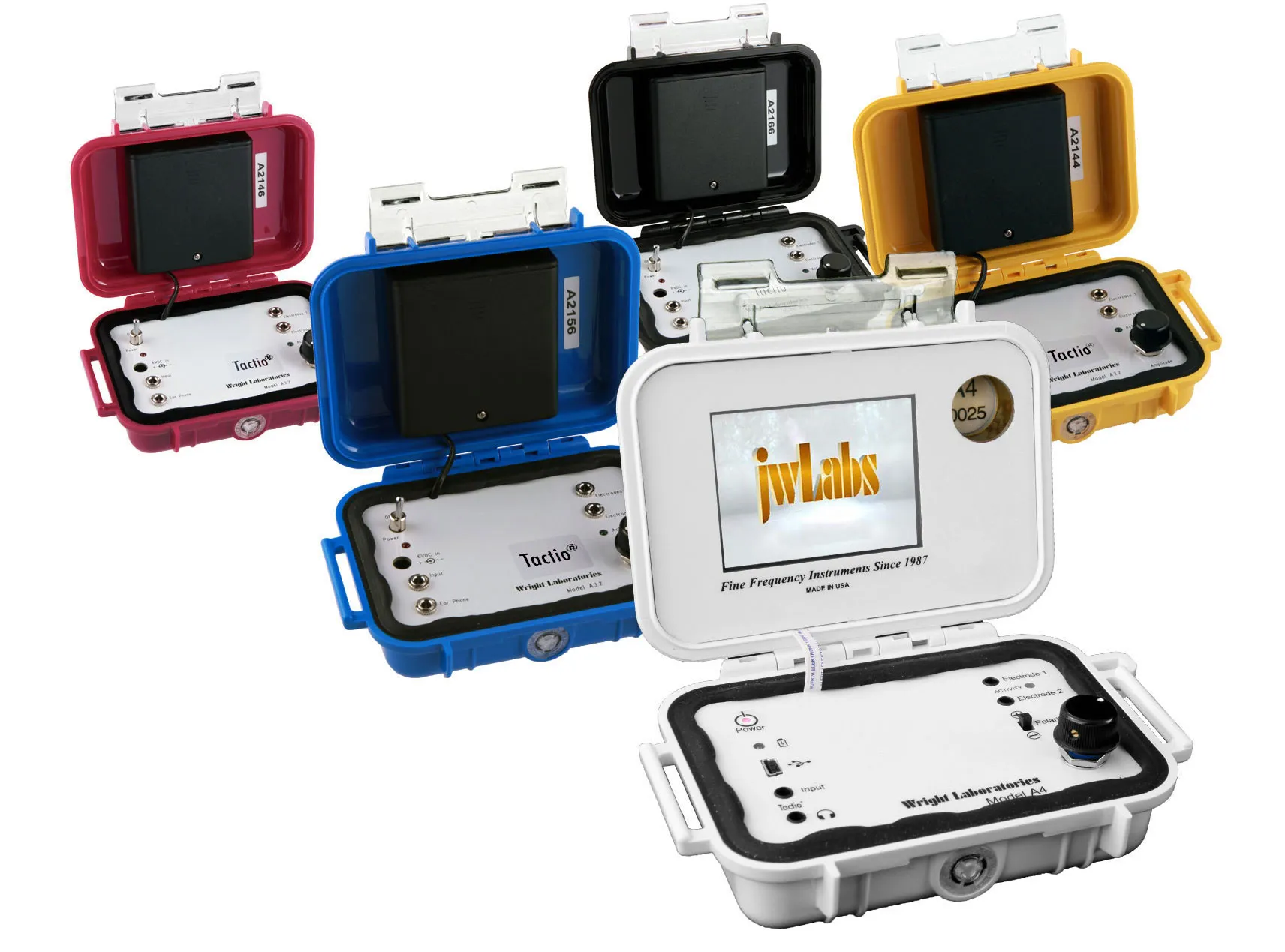 Compare Our Model A
Rife Machines
Support & Lifetime Warranty
We love hearing from you!
Call or email us with your questions.
We can't promise in perpetuity, but in essence, we provide a lifetime warranty on our Model A3 and Model A4 devices.
Payment plan available for US domestic sales, upon approved credit.
Our innovation to an age old technology, Tactio® allows you to feel the sensation of your music.