JWLABS has been designing and producing Rife frequency instruments in the USA since 1987.
We strive to provide the information, knowledge and support you need to make an educated decision about what's right for you with respect to Rife technology. Our mission is to make quality Rife machines affordable enough to take home. 
We have advanced the technology to provide the best of the old and the new, maintaining the integrity of the original analog signal which was significant to Dr. Rife's results. We've long maintained that the safest frequencies are in the audio range, thus they lend themselves to being recorded.
Our devices are Media Adapters which transform audio frequencies to direct output, giving our users a unique experience of tactile music. We have held the trademark Tactio® since 2007.
Our mission is to bring the merits of what has become known as Rife technology to the mainstream.
We do this by offering reliable and affordable products. In addition, we strive to bring forth excellence with respect to design and manufacture of our devices. We are also committed to high standards regarding customer support.
JWLABS has a long tradition of making the finest purpose-built Rife machines in the industry.
Our Model A line of Rife machines allows users to enjoy all the benefits of a very expensive and complicated machine without having to pay for the costly hardware of previous devices.
We continue to develop advanced designs; these are truly 21st century instruments. We do not specialize in bells and whistles. We stay true to the original technology. Our advancements are not about complicating the devices but making them increasingly practical for the user.
Meet our Model A Rife Machines
If you're looking to buy a Rife Machine from JWLABS, our Model A devices are user-friendly Media Adapters which transform audio frequencies into electrical output. This provides the user with pleasant sensations from the resulting electron flow. Many users report feeling energized yet relaxed, and more like themselves.
Our Model B went through many revisions until it was retired in 2004. There were challenges, as engineers were increasingly unenthusiastic about working with the old technology. Vacuum tubes were becoming scarce, and we were entering an age of smartphones and computerized cars, so people's expectations were changing. Despite this, a countless number of Model B instruments remain in the field and are still revered by those who value the old-fashioned authenticity.
Along the way to developing our first Model B, JWLABS boiled down all the necessary functions to their maximum compression, ultimately building the smallest simplest Rife machine. It was called Model A.
Model B27, V3 vacuum tubes
Model A went through over 31 iterations and dozens of prototypes over the course of 18 years. There were subsequently 53 embodiments of Model A, only a few of which showed real promise. In 2004 we launched the first Model A for public consumption.
Manufacturing technology had progressed to the point where we could finally deliver on our original concept.
The initial A-3 lacked power and tended to destroy the input device. Nevertheless, there had never been anything like it in electronics history.
It took nearly two decades for us to bring it to the place where we were assured we could deliver output via a solid state device, preserving the integrity of the original analog signal.
Providing expertly hand-tuned frequency sessions, the 2004 Model A acquired the frequencies from audiotapes. Analog to analog.
Later, we were confident that our extraordinary technology under the hood was equipped to sample the signal "faster than real time", providing a signal that was still true to analog yet far superior to merely digitally generating the frequencies from a chip.
Our membership site is now popular among our Model A3 users. Our extensive library of masterful hand-tuned sessions is a tremendous resource for those wishing to use with Rife technology.
Our 2019 Model A3.3 features upgrades including a rechargeable battery and a polarity switch.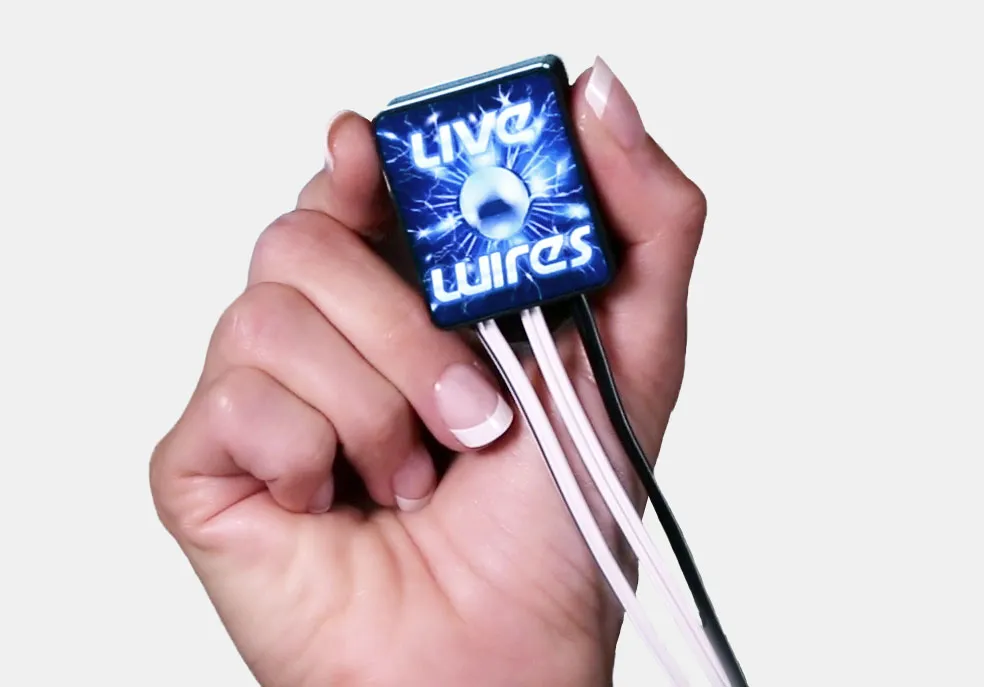 LiveWires is technically a Model A device. Same principle, different package. Budget friendly and surprisingly small, this unit relies on an internet connection to access our frequency sessions. This instrument represents a breakthrough, in that our engineers have miniaturized the circuitry successfully while preserving the quality of output.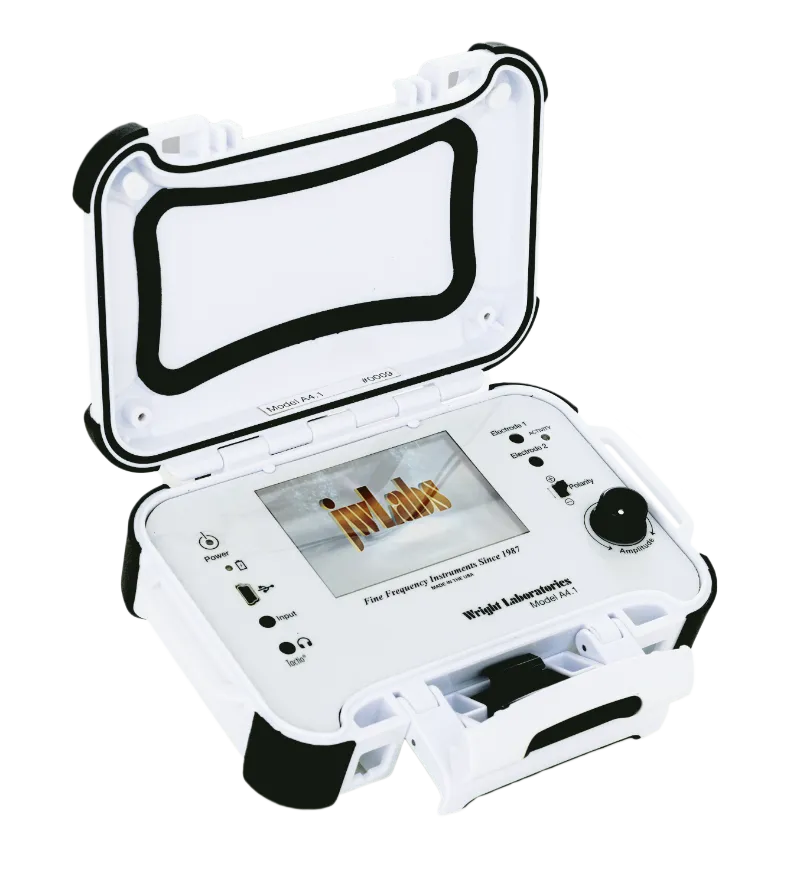 Our Model A4 is our most recent achievement. Launched in 2017, this is the first touch-screen Rife machine. Powered via a rechargeable battery, it embodies our entire library of frequency sessions. There is virtually no chance of missing the correct frequencies. It delivers the constant tuning that's needed and solves most of the practical problems that have made the old designs difficult for all but an expert. No longer tethered to a power supply or to an exterior device, this unit has quickly become a favorite.
Maximize Your JWLABS Model A Experience
Utilize over 320+ comprehensive hand-tuned frequency sessions to maximize the capabilities of your JWLABS Rife machine.
Free for all JWLABS Users
Users must be a JWLABS member
Customers for years have reported their exhilarating experience of feeling the frequencies of their music. Some prefer our 320+ expertly hand-tuned sessions, each representing a different emphasis on tuning techniques, while others extol the virtues of listening to their favorite songs and concerts with the added dimension of the tactile stimulation. We call it Tactio®.
Tactio® is tactile music developed by JWLABS that takes your music experience to a whole new level. Charge your body with the frequencies of your very own music, and benefit from technology that has been around for over 100 years.
Tactio® is a built-in feature on the JWLABS Models A3 and A4, and music can also be streamed through JWLABS LiveWires. Call to learn more.
The Future Looks Brighter
Just wanted to let you know that we are loving the Rife machine so far! Amazingly, we're already seeing some improvement. Again, thank you very much for all your wonderful help. Because of you, the… Read more "The Future Looks Brighter"
Lacey L. — Texas

The son of an inventor, and an inventor in his own right, John Wright operated Wright Laboratories for his projects long before he embarked on the Rife machine project. Approached by friends and colleagues of Dr. Royal Rife in 1986, John researched the subject before contracting with them. During this period, he learned secrets about the true nature of the technology. From sources as varied as John Crane, other researchers, and our own DOD.
In 1987 Wright went into full production with his Model B. A fully manual analog device, it was true to the old-fashioned technology, but was much more refined than what Royal Rife had available. Model B became legendary, and it remained in production until 2004.
The Model A line was launched fully in 2004. This marked a new era for JWLABS. With solid state technology, we now had devices which were more affordable, user-friendly and practical. All this without sacrificing the integrity of the robust old-style signal. With masterful tuning "in the can", users could now repeat professional sessions.
Always thinking forward, John continued to develop the technology to improve ease and convenience. All devices employ his original hand-tuned frequency sessions and are accompanied with his long standing commitment to customer support, including his generous warranty.
Some of John's fields of interest include: drafting and design, electronics, physics, mechanics, molecular biology, chemistry, astronomy, microscopy, radio, geology, botany, pharmacology, genetics, zoology, world religion, law, languages, masonry, and oceanography.

Cherry Maly Wright - Executive Director
Cherry acquired her first Wright Laboratories Rife machine in 1999. Motivated by a long-held interest in health and wellness, she understood the value of the basic effects of Rife technology and the significance of employing it for general wellness. Formerly a massage therapist, she became a JWLABS Distributor in Chicago. After nearly two years, she came on board full time in 2001 to manage Sales and Customer Support. Since John's passing in 2016 she has taken the helm of JWLABS, re-organizing the company as Wright Laboratories LLC. She  directs Customer Support, Sales and Marketing strategies and works hand in hand with the engineering team for ongoing product development.
Cherry's history includes Midwest Regional Manager with Logonet Inc, a company specializing in Ontological Design which was established by Dr. Fernando Flores. After nearly five years with the Flores organization, she marketed other nationally known speakers and trainers in the personal and executive coaching industry including William Hanrahan and Dr.Teri Mahaney. These teachers have had a profound impact on Cherry's personal and professional development, and they are a reflection of her personal commitment to helping people be more effective in life. For well over twenty years, that commitment has been expressed in the realm of helping people toward wellness.
Based in the USA!
All of our Rife machines are manufactured here.