JWLABS MODEL A3 Rife Machine
Our Mid-Priced Rife Machine
Find out why so many are using our devices to support their General Well Being.
"Thank you for your A3. At 75 I'm using it every other day and feeling good!" — Ed W., British Colombia
"I've experienced a huge transformation in my general well being using my Model A3. I had tried other devices, but none has made such a difference! I always feel better when using my machine and I wouldn't be without it!"— Rob D., California
" This machine has become very important to me. It's a treasure!" — Thomasine B., Maryland
The JWLABS Model A3 Rife Machine has been a favorite since 2004. Users can access over 300 expertly tuned frequency sessions online to be streamed through the A3. Our sessions, which deliver frequencies from approximately 2 hertz to 10,000 hertz, have been hand-tuned from our analog device, assuring you a rich, robust signal. These audio frequencies are instantly transformed to electrical output which you feel as a tingling sensation.
Ask about our Tactio® feature, bringing new life to your music! Use your Model A3 to stream your favorite music from your computer, your tablet or your smartphone. Tactio® elevates your experience of music.
Take full advantage of the JWLABS Model A3 Rife Machine and become a JWLABS member to access our entire library of hand-tuned frequency sessions. Full range audio tuning at its finest!
The best of the old and the new in Rife technology.

Precision engineering.
User Friendly.
Three decades in the industry.
Made in the USA.

Full warranty.
Straightforward. Reliable. User-Friendly.
Crush-proof enclosure for optimum protection!
Port for re-chargeable battery, providing easy portability!
Input port which permits accessing frequencies from an outside source!
Tactio® port for your exhilarating experience of tactile music!
Two electrode ports provides for two users!
Activity Light indicates when your electrode wires are live.
Polarity switch permits the change of direction of current!
Precision, wire-wound, analog, ten-turn potentiometer for precise control over the intensity of your sensation!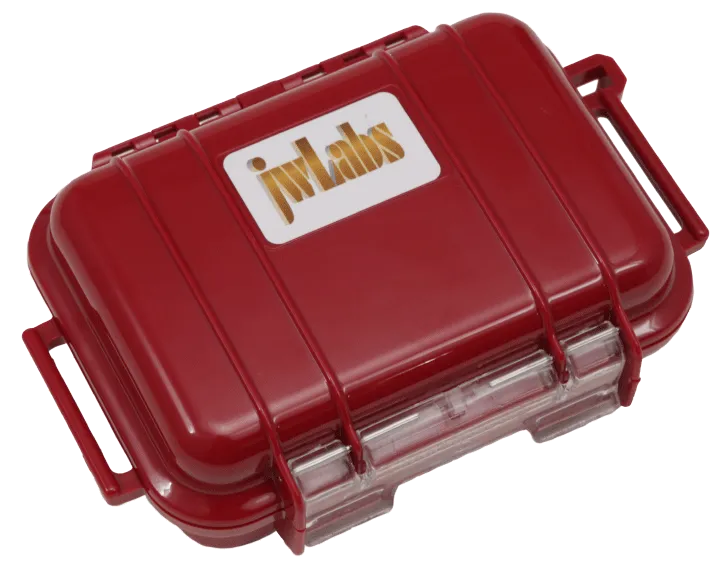 For precise control over the intensity of your sensation!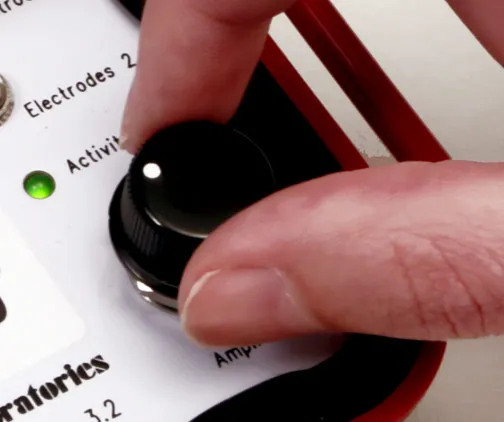 Available in Multiple Colors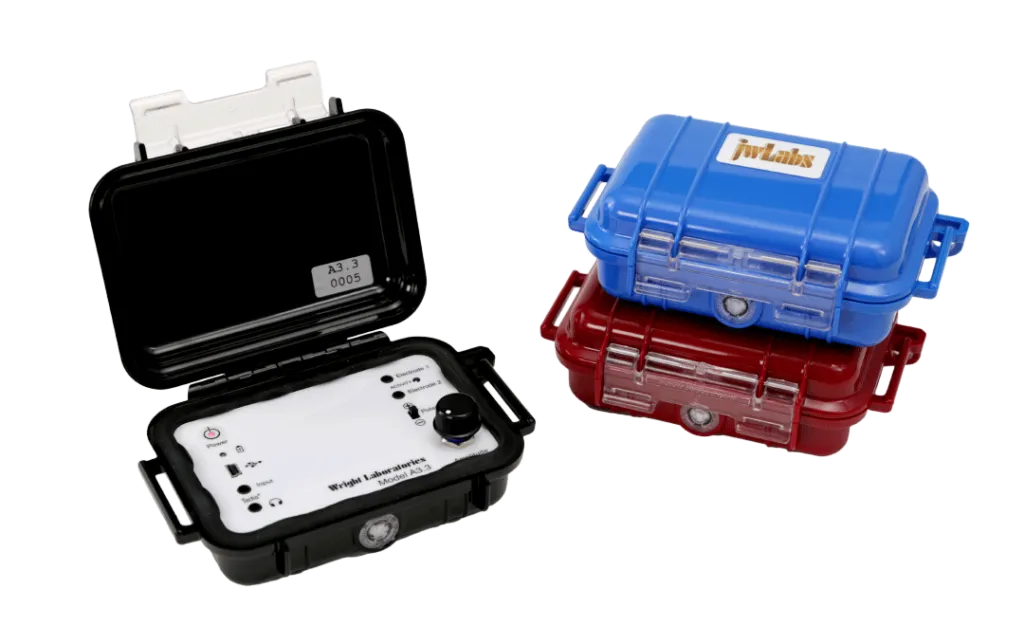 Two sets of electrode wires
USB cable and charging cube
4 adhesive electrode patches
Input cable (to connect device with media player)
Quick-start guide
General Alignment frequency recording (1 cd)
Start-up Video Online
Crush-proof carrying case
2 electrode jacks
10-turn amplitude dial
Maximum output is 64-68 volts
Built-in rechargeable battery
Activity light indicating output
Case measures 6″ x 4″ x 2″
Weighs one pound
Library of recorded programs available separately
Exclusive Library of Audio Recordings
JWLABS has expertly tuned frequency sessions for you from our legendary Model B.This analog source delivers undertones and overtones around each number we've targeted.
Each session is meticulously tuned, incorporating sophisticated techniques which ensure that you benefit from a comprehensive approach.
We deliver frequencies from 3 hertz to 10,000 hertz, each title representing its unique emphasis on certain frequencies as well as nuances provided by our tuning techniques.
Model A3 users access our extensive library via streaming from the membership section of our website. A subscription is required.
"I have been using my Model A3 for at least 10 years and it has done wonders for me. I talked my husband into using it too and made a believer out of him. An amazing machine!!
Thank you JWLABS!"
"J.W. Labs' model A is the best device of its kind in the industry, and their service is second to none. Still years after the purchase both keep going like the first day. Can't wait to see what they come up with next."
Will Model A3 be easy to use?
Model A3 reflects our straightforward, no-nonsense approach to Rife machine user interface.
Power and activity lights let you know immediately the status of the power input and signal output, with no unnecessary bells and whistles.
Connect to your media device of choice (cd player, computer, notebook, or tablet) and select the frequency range to play through your Model A3, which converts the signal instantly to a tactile output. Adjust the intensity of the output via our precision, wire-wound, analog, ten-turn potentiometer.
This provides you with supremely fine amplifier attenuation, instilling a confident, intuitive feel when applying even to the most sensitive areas.
Confident Personal At-Home Use
You have the advantage of our expert tuning methodology, which employs both analog and digital technology. Our specialized sessions are recorded from our legendary Model B27v7 vacuum-based frequency instrument, providing accuracy as high as one millionth of one Hz.
Each session contains the entire range of frequencies specifically tuned and adjusted for each application. Target numbers, both traditional and non-traditional, are tuned to a precision unheard of in previous Rife machines. This gives you the best possible opportunity to explore the possibilities with your device.
We provide a comprehensive library of professionally tuned sessions for JWLABS members.
Learn How to Use Your Model A3
Watch this hand informational video to learn more about how you can best utilize the Model A3 and all of its features.
Use It For A Lot Of Things
I've had [A3] my machine since 2018, They're great machines! I use it for a lot things cold, pain. Toothache, neuropathy, u name it's worked for that.
Lynwood M. — North Carolina
Strong and More Vibrant
I love our [A3] machine and I'm so glad I got it when I did. I feel strong and more vibrant when I use it. If I neglect it I notice significant difference.
Sherry H. — Texas
Feeling Much Better
I've had just two ten minute sessions on track 2 of GA and there's already been a huge impact! I'm feeling much better. My energy and my balance have improved and my voice even feels stronger.
Ken L. — Missouri
More Powerful than Expected
I really like this little machine, it's more powerful than I expected. I seem to have more energy and it seems like the circulation is improving in my left foot. My cough is improving and I'm… Read more "More Powerful than Expected"
Dale P. — Alabama
One Session and the Pain Was Gone
This little box really helped me with a shoulder injury. Just one session on the GA and the pain was gone, never to return.
Rick F. — Texas
Precision engineering is the hallmark of JWLABS Rife machines.
Our devices reflect our straightforward, no-nonsense approach to Rife machine user interface.
Call Us to Purchase Your A3 Rife Machine
Model A3 Rife Machine
On Sale $1,595
(was $1,795)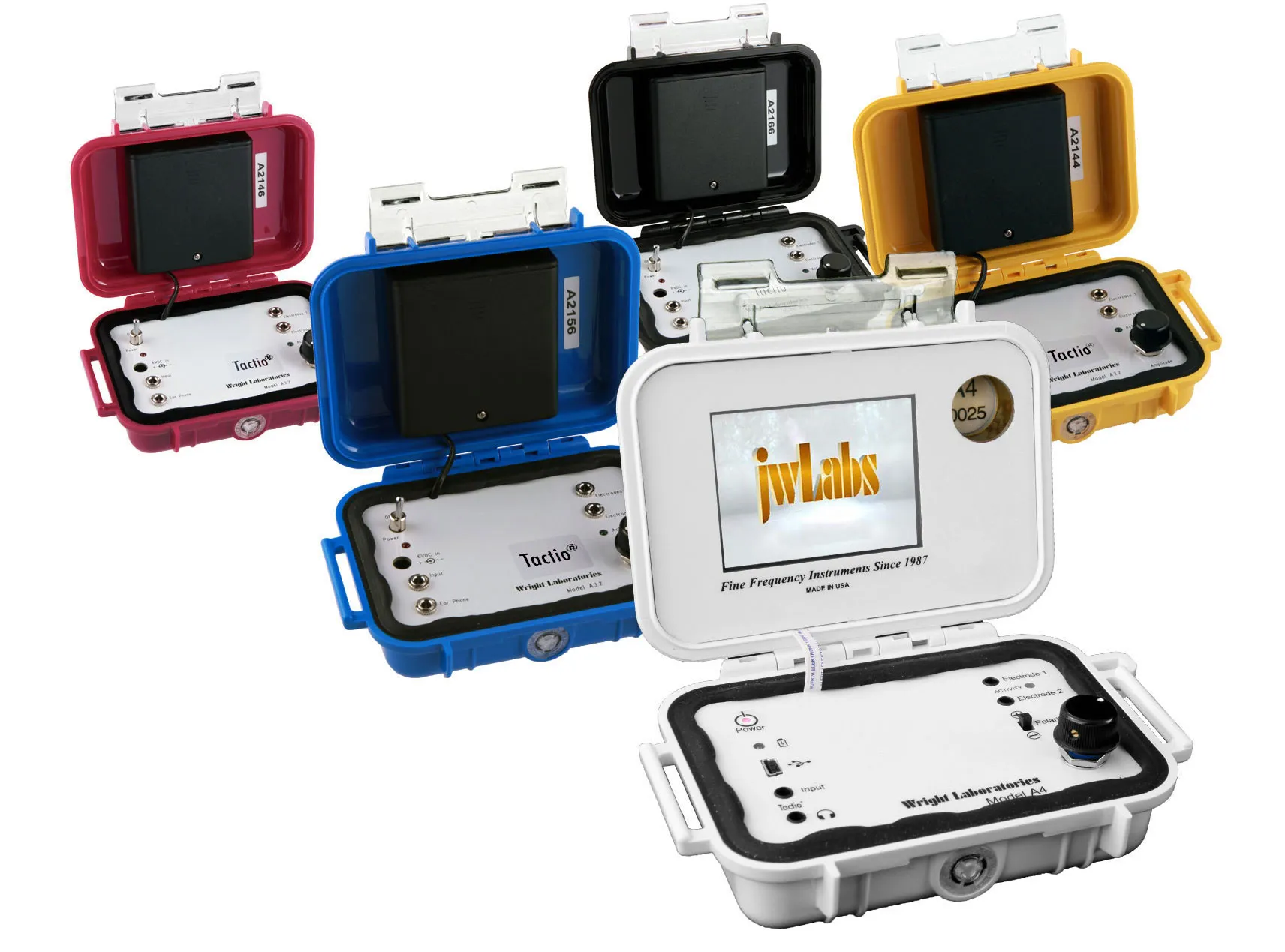 Compare Our Model A
Rife Machines
Support & Lifetime Warranty
We love hearing from you!
Call or email us with your questions.
We can't promise in perpetuity, but in essence, we provide a lifetime warranty on our Model A3 and Model A4 devices.
Payment plan available for US domestic sales, upon approved credit.
Our innovation to an age old technology, Tactio® allows you to feel the sensation of your music.